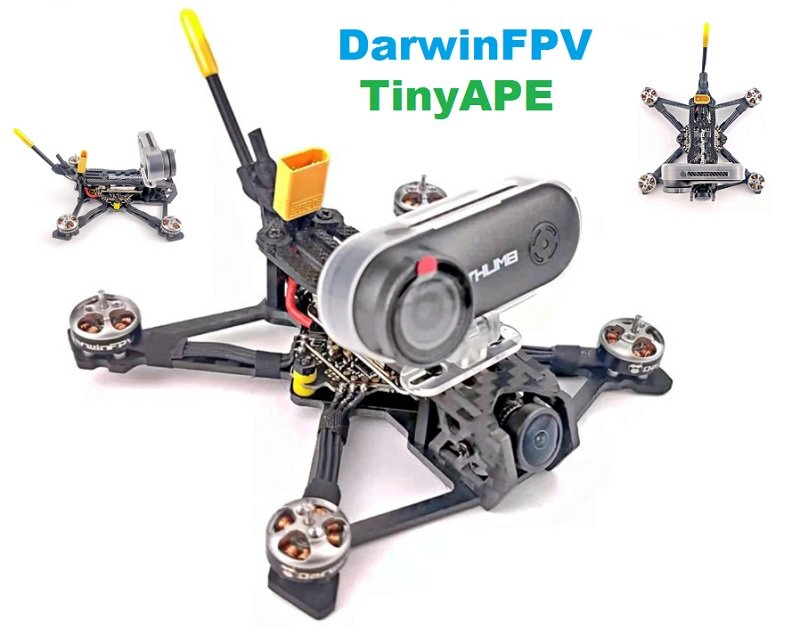 The DarwinFPV TinyAPE Plus is a 2.5″ FPV drone offered in a bundle with the RunCam Thumb camera.
DarwinFPV's first 2.5″ freestyle quadcopter is built on an F411 AIO flight controller with an integrated 15 ESC and ELRS 2.4G radio receiver. By default, it comes with 4.3.0 Betaflight software. Factory firmware only supports ELRS_V1.0 and if you want to use it with the ELRS V2.0 version TX Module you will need to update the software.
According to the advertised specs, when VTX power is set to 400mW you can achieve a flight time of 8.25min with 3S/380mAh battery (9.75v end voltage) or 8.18min with 2s/450 LIPO pack (6.5V end voltage).
DarwinFPV TinyAPE features and specs
2.5″ blade compatible carbon fiber frame;
F411 15A AIO flight controller with Built-in ELRS 2.4G receiver;
betaflight_4.3.0_BETAFPVF4SX1280 flight controller;
1103 8000KV brushless motor + Genfan 2512 3-leaf propellers;
RunCam Nano 4 FPV camera + 25-600mW…