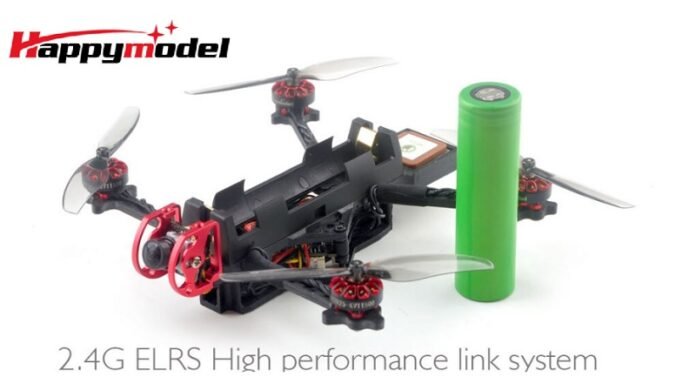 Like the BetaFPV HX115 LR, the Happymodel Crux3NLR also comes equipped with a built-in SPI ExpressLRS 2.4GHz receiver. This new radio communication has become extremely popular due to its excellent stability and low latency.
On top of the 115mm, carbon fiber frame has a 18650 battery bay. According to Happymodel, you can have up to 17 minutes of crossing time with a single Sony 18650 VTC6 battery.
#AD: Banggood drone sales
The F4 2G4 AIO 5in1 flight controller features integrated 5A ESC, 200mW VTX, and SPI ExpressLRS 2.4GHz radio receiver. The EX1202.5 KV11500 motors are matched with 76mm 2-leaf propellers.
When it comes to long-range FPV flights, an onboard GPS positioning system is a must-have. The Happymodel Mini M8N GPS mode has a 2 meters accuracy and can work with multiple satellites provides.
Happymodel Crux3NLR highlights
Ultralight Nano Long-Range drone with GPS;
115mm size carbon fiber frame (weighs only 68g…